United Methodist Visitor's Booklet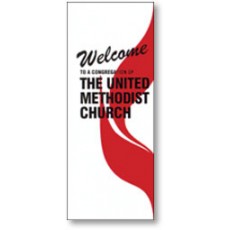 10 or more $2.05
50 or more $1.97
100 or more $1.89

Click here to see or download a complete copy of the text of the UNITED METHODIST VISITOR'S booklet for review.

By Ronn Kerr. A 16-page, coat-pocket sized (3 1/2 x 8 1/2") booklet designed to be given to worship visitors, handed out by visitation teams, mailed to visitors, and added to new member packets. The booklet covers United Methodist history and our unique beliefs, practices, and structures. The concise, easy-to-understand text reflects the many traditions and the unique diversities which come together in the modern United Methodist Church.

Excellent for new member classes, adult church school classes, youth programs and churchwide events in which time and budget considerations require a briefer presentation.may

Availability: Usually ships the next business day.
These booklets do a great job of describing the UMC to visitors and when members of our Fishermen Club make calls. They work perfectly with a brochure about our individual church that we also give out. We have been using them for about years because their size and the quality of the information is just what we need.
---