My Confirmation Into the Body of Christ CONFIRMATION WORKBOOK PCUSA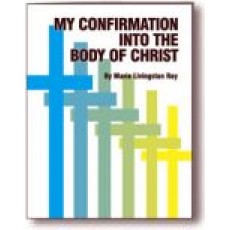 10 or more $9.45
25 or more $8.95

CLICK ON THE "RELATED PRODUCTS" TAB ABOVE TO SEE THE OTHER ITEMS IN THE CONFIRMATION AND MEMBERSHIP STUDY
Click here to view or download one SAMPLE CHAPTER from the Body of Christ CONFIRMATION WORKBOOK.
Click here to view or download the matching SAMPLE CHAPTER from the CONFIRMATION AND MEMBERSHP LEADER'S GUIDE
Click here to view or download SAMPLE FRAMES from the PC(USA) CONFIRMATION AND MEMBERSHIP POWERPOINT SHOW
The workbook, My Confirmation Into The Body of Christ, by Marie Livingston Roy, is aimed at sixth and seventh grade children preparing for confirmation. It is in 8 1/2 x 11" format with easy-to-understand text material, inviting illustrations, photographs, and workbook exercises for virtually every section -- a take-home learning tool that provides classroom continuity and encourages family interaction.

This book covers the first half of the Presbyterian (USA) Confirmation and Membership program and parallels the first half of the PowerPoint Show and Leader's Guide. It focuses on the basic beliefs and Christian history common to virtually all Christians: the doctrines of God, Christ, salvation, the Holy Spirit, the Church, and Biblical authority. These are followed by the emphases on the beginnings of Christianity, Paul, the early church, the medieval church and the beginning of the Protestant Reformation.

My Confirmation Into the Body of Christ is usually used in tandem with the second book, My Confirmation into the Presbyterian Church (USA), but it can be used alone when you want to focus on basic Christianity.

Availability: Usually ships the next business day.
There are no reviews for this product.
---