Lenten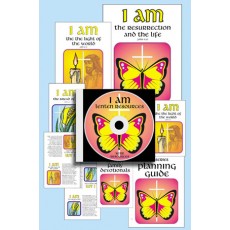 This powerful Lenten series is built around the "I am" themes in the John Gospel and everything is contained in one inexpensive CD Rom. The mysterious and compelling "I am" sayings of John lend themselves well to a meaningful series of worship services and family activities, especially when they are augmented with striking visual materials that make the season come to life.
Most of the more than 100 files on the CD Rom are in Adobe Acrobat (portable document file) format for easy reproduction on local inkjet or laser printers. Some files such as the Letterhead and Envelope files are in both pdf format and in editible Microsoft Word documents so you can add personal information. Bulletin cover art is in both pdf for printing blank bulletins and in jpg format for inserting into whatever software you use for publishing your worship bulletins. Clipart is also in jpg format for insertion in newsletters, brochures, etc.

The CD Rom contains a complete 70-page PLANNING GUIDE in two versions (pdf and doc) with extensive Biblical background, preaching, liturgical, program, music, and children's sermon materials for the six Lenten Sundays, Maundy Thursday/Good Friday, and Easter Sunday plus creative suggestions for ways of keeping the themes alive in family, church school, worship and other settings.
The CD Rom also has art for Worship Bulletins and Posters in both color and black and white versions and a full series of Table Grace Cards with the theme art and family mealtime prayers. Also included is theme art for Letterheads and Envelopes, a copy of the Adobe Acrobat Reader, and an assortment of Clip Art matching the "I am" themes.
Availability: Usually ships the next business day.
There are no reviews for this product.
---