Christianity and Islam POWERPOINTS, POWERPOINT GUIDE, STUDENT BOOK & LEADER'S GUIDE on CD ROM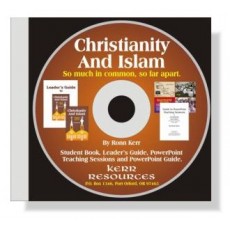 CLICK THE "RELATED PRODUCTS" TAB ABOVE TO SEE ALL OF THE RESOURCES IN THE CHRISTIANITYTY AND ISLAM STUDY


Click here to view or download a sample chapter of the Christianity and Islam STUDENT BOOK
Click here to view or download a sample chapter of the Christianity and Islam LEADER'S GUIDE
Click here to view or download sample frames from the 359-frame TEACHING POWERPOINTS for the Christianity and Islam study
Click here to view or download sample pages of the POWERPOINT GUIDE that accompanies the PowerPoiints for the Christianity and Islam study
Everything you need to do the powerful Christianity and Islam study all on one CD Rom -- the 359-frame POWERPOINT TEACHING FRAMES, printable pdf files of the 56-page POWERPOINT GUIDE in both color and grayscale, a printable pdf file of the 80-page STUDENT BOOK, and a printable pdf file of the 100-page LEADER'S GUIDE. All of the Christianity and Islam resources on one CD Rom!
The PowerPoint shows can be shown on any computer whether or not it has PowerPoint software on it.
Author Ronn Kerr has taught this course many times and he finally decided that it would be made much stronger with a PowerPoint program filled with pictures, animated text frames, maps and charts divided into thirteen shows that match the thirteen chapters of the Student Book and Leader's Guide.


In addition, the 56-page PowerPoint Teaching Guide, which supports the 356-frame Powerpoint program, is on the CD Rom in both a printable color and grayscale pdf version with pictures and commentary about each frame of the PowerPoint shows. And, the CD Rom also contains printable pdf copies of the 13-chapter, 80-page Student Book and extensive 100-page Leader's Guide.

Christianity and Islam by Ronn Kerr is a unique new study for a unique time. Each session covers a major area of the world's two largest religions, comparing and contrasting them in a way that brings greater understanding of each. Written for Christian adults and older youth that have little knowledge of Islam other than what they have seen in the news, this study aims at providing a general understanding of the differences and similarities between these two great religions.

This popular study is divided into the following thirteen weekly sessions: 1. The World's Two Largest Religions, 2. Jesus and Muhammad, the Early Years, 3. Jesus and Muhammad, the Ministry Years, 4. Jesus and Muhammad, the Conflicts, 5. Apostles and Caliphs, 6. Schisms and Denominations, 7. The Bible and the Quran, 8. Pillars of Faith, 9. Religious Leadership and Worship, 10. Primary Theological Beliefs, 11. Culture and the Role of Women, 12. Violence and Warfare, and 13. The Future of Christianity and Islam.

The study takes neither a "how-to-convert-Muslims" nor a "we're-all-the-same" approach. It provides students with a greater appreciation of both Jesus and Muhammad, both the New Testament and the Quran, and both Christianity and Islam. One of the most common comments from students who have taken the course is that they learned a lot about Islam and just about as much about their own faith!

This thirteen-week course is a perfect substitute for those quarters when dated studies like the International Lesson Series just don't work. When that time comes, try Christianity and Islam and then return to the dated studies the next quarter.

Availability: Usually ships the next business day.
There are no reviews for this product.
---