Big Christian Ideas LEADER'S GUIDE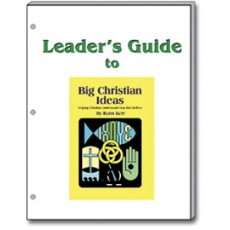 CLICK THE "RELATED PRODUCTS" TAB ABOVE TO SEE ALL OF THE RESOURCES IN THE BIG CHRISTIAN IDEAS STUDY

Click here to view or download a sample chapter of the Big Christian Ideas STUDENT BOOK
Click here to view or download a sample chapter of the Big Christian Ideas LEADER'S GUIDE
A comprehensive 100-page Leader's Guide to the popular Big Christian Ideas Student Book (Order No. 544). Loose-leaf, 3-hole punch format allows different chapters to be separated for distribution to different instructors. Each chapter contains substantive background information, many Biblical references, and a variety of teaching suggestions and discussion starters. With this extensive leader's guide, the text material in the Big Christian Ideas Student Book becomes a platform from which students are launched into comprehensive and meaningful discussion about their beliefs.

Availability: Usually ships the next business day.
There are no reviews for this product.
---